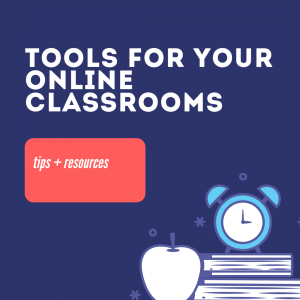 Suddenly we all went online.. The techy, the old school we are all on the same boat, trying to sail safely to the shore. Language teaching will not be complete with student interaction. We need to find ways to make students more productive instead of keeping them in front of the screens pretending they are listening. So here I want to share some of my favourite tools that can be used to enhance communication, to encourage production.
1. PADLET
Padlet is a great tool because students can work on the same noticeboard at the same time. You can share the link with your students and they can write a story, answer some questions, comment on something. Today I revised vocabulary using Padlet. I asked my students to write a short story using at least 6 of the new words we practised in the lesson.
You can find more ideas here.
2. GOOGLE DRIVE
You can use Google Apps for interactive activities. A beginners guide is here.
Google Form has the quiz option so students can do the exercise on Google Form and then you can see if they have understood or not. You can divide your class into groups, ask your students to write stories on Google Documents. You can assign one slide per student, share the link with them and they can write their paragraphs about a topic on their slides. Then they can read their friends' enteries and write positive comments. Once they finish, you can choose some of the fossilised errors and do an editing exercise.
3. QUIZIZZ
Nowadays my number one game tool is definitely Quizizz. . I love quizizz because it is not only a game but also a great learning tool. At the end of each session, you can play a short Quizizz to check understanding. Here is a post about Quizizz in the depth of this blog.
4. QUIZLET
Quizlet is another great tool that I can't live without. Quizlet is not just a flashcard maker or a vocabulary learning tool, you can use it to check comprehension, match sentence halves, fill in the gaps with vocabulary.
You can see an example of gap fill here., matching sentence halves here, a comprehension exercise here . If you create a class on quizlet, you can easily follow your students' progress.
5. MENTIMETER
Mentimeter is another tool that you can use at the warm-up or feedback phase of your lesson. Ask a question, give the code to your students and have your classroom word poster after each activity.
I hope this post will be useful for you to plan your online lessons. I know I'm not good at writing about tutorials, Go to any tool, sign up and start to create. All of them work with the same principle. I just jotted down some ideas that may help you throughout this journey. And if you have another tool that will make our classes more interactive, please leave a comment here.
Stay Safe 🙂