One of my favourite writers for the 'Reading Class' is Roald Dahl. I've been using his short stories for almost a decade and the students have always loved them.
I just came across with this pdf http://www.msad54.org/district/literacyspecialist/pdf/blooms.pdf
But you can also get more ideas for using Bloom's taxonomy in reading classes which I find very practical when preparing my own handouts for my students http://www.scoop.it/t/blooms-taxonomy-in-efl-classroom
I mostly use the following Roald Dahl stories with my 11th and 12th graders.
The Landlady, a very shocking story and teenagers love it.
Here are some great lessons of the story I found on the net.
http://www.teachingenglish.org.uk/britlit/landlady
http://mysite.verizon.net/zila84/_llady.pdf
Word games and puzzles http://teachers.henrico.k12.va.us/wilder/williams_d/thelandlady.html
An adaptation on YouTube http://youtu.be/4tcj5P3jjeI
My suggestion as a follow up:
Pretend you are Billy. You just found out what happened to the two young men and realised you were also poisoned, and locked into a room. Luckily you have still your mobile (as the landlady is a little bit old-fashioned she hadn't known anything about mobiles and social media). Write a text message to a close friend, update your status on Facebook and send a tweet to the whole world and ask for help. Write your version of the story.
Create a scrapbook based on the setting, events and characters from the story. (You can use a web 2.0 option for this task)
My students' web 2.0 projects on the story. http://englishwithgrade12fld.blogspot.com/2011/10/landlady-by-roald-dahl.html
The Way Up To Heaven
http://www.roalddahlfans.com/shortstories/wayu.php
A YouTube video http://www.youtube.com/watch?v=IJAPwN9eAqk
A suggestion on how to analyse this story http://www.youtube.com/watch?v=tcNMaD8Vnww
A pre reading task: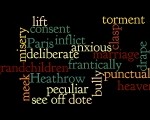 http://www.wordle.net/show/wrdl/5484042/The_way_up_to_heaven_by_Roald_Dahl
Lamb to Slaughter
Years ago my students adapted the story to stage, wrote the script and performed. Unfortunately in those years, technology was not like this and I was also a bit technophobic so even a simple camera recording isn't available now.
Here are some links to inspire you to prepare your own
A Short story inspired writing lesson http://writingfix.com/Short_story_Prompts/Lamb_slaughter1.htm
From Roald Dahl's fans http://www.roalddahlfans.com/teachers/lamb.php
http://www.brighthubeducation.com/homework-help-literature/123135-study-questions-for-lamb-to-the-slaughter/
http://lk-theroadnottaken.blogspot.com/2010/09/teaching-roald-dahls-lamb-to-slaughter.html
A web 2.0 suggestion:
You can watch a clip fro Hitchcock's 'Lamb to the Slaughter' then ask the students to redirect the movie. They have can prepare a PowerPoint presentation, a prezi or a glogster and introduce to the class their cast, soundtrack, setting, etc giving their reasons why they chose the actors and the music. They can also create a movie poster.
More ideas for reading classes:
Or if you can read all the stories in a row, maybe you can ask the similarities of these three women.
And don't forget to visit the beautiful official Roald Dahl page