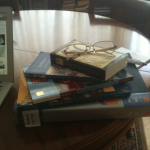 Reading is a must for me. I feel guilty when I can't find time to read. I feel stressed if I can't finish a book I have started reading. I know we grew in a world where we had be told that the books a the best friends and things are not the same anymore. Still I need to hold a real book, turn its pages, write notes on the margins, cover the page edges to continue later, tidy the shelves of my bookcases.
It is a bit difficult but I also want my kids to become passionate readers and so do my students.
I love teaching reading!
It is possible to teach so many things with one book. In my following posts I will share some titles that I love using in class and I will also be very happy if you share your thoughts.
Sometimes it is difficult to read novels in the class. Yet we usually choose at least two readers according to students' levels to read and talk in the class but we also work with short stories a lot. It is often very challenging to use them. As they are short, they don't make the students discouraged and if I tell them that the story is not a simplified one they feel motivated.
The following sites are great when I need help and support.
http://www.teachingenglish.org.uk/britlit
http://www.teachit.co.uk/index.php?CurrMenu=searchresults&tag=1220
http://www.tes.co.uk/teaching-resources/
And I will continue with Roald Dahl and what we do in the class.