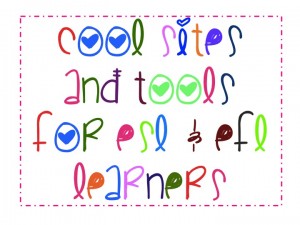 If you are learning English in the 21st century, you are lucky because you will have numerous alternatives to practise the things you've been learning.
There are thousands of great sites which will help you, but if you don't have a place to store these cool sites, then you'll lose track so I will suggest you to bookmark them.
I use scoop.it, diigo and pinterest for the sites I love. You can start a pinterest board for the listening, reading or writing sites, or start using scoop.it to curate links for learning vocabulary, practising reading, etc. You can follow other learners and learn from them as well.
Here you will find some cool tools for you to practise what you've been learning.
EngVid is a free site to learn English for free with video lessons. New Lessons are added regularly, covering grammar, vocabulary, TOEFL and more. Students who are willing to improve their English can visit the site at least once or twice a week.
5 Minute English is a site designed to give the learners short and easy explanations and exercises. The learners can have a quick look at grammar, reading, listening, vocabulary and idioms. They can also find answers to questions that can be confusing for other learners. This is under the Question and Answer section.
If you spend 5 minutes a day here regularly, you will benefit a lot.
News in Levels  is another great site that can be recommended to enthusiastic ESL learners to study English.
There are short news articles for different levels. You can choose your level and read the news and listen to it. You then can try the other levels for the same article. The words in the original news have been changed and adapted to 3 levels. The vocabulary definitions are also given.
I just came across with ETTC, a site where you can try writing poems on your own. The site allows the users to write fun poems, guiding them to use certain vocabulary.
This is a great way to learn and recycle vocabulary.
Listening to songs is one of the greatest ways to study a foreign language. That's why Lyrics Training is another site you can visit daily. You can listen to the songs and try to fill in the gaps according to your level. If you can't catch up the words, the video stops and you have to listen to it again.
oneword.com is a great site which will allow the learners to write on a word given in 60 seconds. When you click on the link and access the site you will see how simple it is to use. Click on 'GO', you will see a word and will have 60 seconds to write about it. The words given are very simple and that way even the beginners can find something to write.
Esl.fis.edu is a site to provide resources that will help ESL learners improve their grammar, reading and vocabulary skills. The site contains activities and quizzes which will facilitate learning. You can choose an activity and start doing and you get immediate feedback.