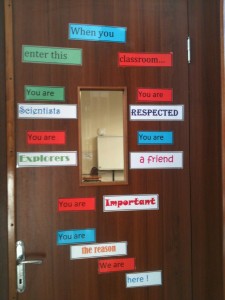 1. Each person is given a sheet of paper with a series of instructions to follow. Each student's instructions should be different. Tell them to stand up and mingle until you stop them. Then ask them to share their answers. Your instructions can be as "Find someone who …"
Find out who has been abroad before.

Who can play any instruments?

Find what your classmates have for their breakfast.

Who spent their summer holiday on an island?
2. Give each student a post-it note. Tell them to write their names at the top. Then ask them to write 1 adjective that will describe their physical appearance and 5 adjectives that will describe their character. Collect the post-it notes. Tell students they will guess the person you chose. Ask them to stand up next to their seats. Read one adjective each time and if they think that adjective doesn't describe them, they have to sit down (whether they have written the adjective or not) Once they sit, they can't stand up again. Continue calling an adjective, till they guess who the person is.
3. Divide the class into teams. Tell them they will advertise themselves to you. Prepare a bank of advertisements for them to get inspired. This will work well with a group of students who know each other well but the teacher meets them for the first time.
4. Provide A4 size paper, crayons, markers for each student. Ask each student to prepare a poster which contains some symbols or pictures describing who they are, what's important to them or what they enjoy.
Each poster should be divided into 4 or 6 segments. Each segment can contain a picture of favourite emotion, favourite food, a hobby, a skill, a motto etc. Set time limits. When they finish, tell them to stand up, play some music and tell them to walk around till you stop the music and ask them to find a partner and introduce themselves to each other, then they have to exchange the papers and they will introduce their new friend to the class.
Some other activities from the archives of A Journey in TEFL
http://evasimkesyan.com/2012/08/16/getting-ready-to-go-back-to-school-2/
http://evasimkesyan.com/2011/08/31/24th-edition-of-efleslell-blog-carnival/
http://evasimkesyan.com/2010/04/28/go-and-open-the-door/
http://evasimkesyan.com/2011/08/22/variations-with-'go-and-open-the-door'/