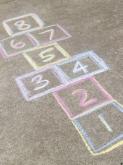 Energisers are great activities and can save lives when you feel your students are not in the lesson anymore.
These quick games can be used to bring your students back to classroom. A little bit movement, mingle, laughter will break the ice, will help to get rid of the boredom. Maybe the focus is not directly on the language but still you can adapt these games according your students' needs and levels.
Touch Something Pink
Tell students to stand up. Explain that you will give instructions and they will touch something in the classroom according to it. It can be an object, a coat, etc
What has changed?
Pair students
Partners should observe each other carefully
Tell them to turn their back to each other and make 3 changes to his/her appearance. For example, they can remove a watch or change the wrist, roll up sleeves, etc.
When ready, they turn to each other and in turns they try to find the 3 changes.
Find your family
Prepare cards with categories, fruit names, family names or occupations.
Give each student a card
Tell everyone to walk around the class and find their group members
This one will work very well when you plan your groups in a group work. They usually moan when you say work with him or her but when you play a game and put them in a group like that they obey the rules.
Fruit Salad
A classic but fun!
Teacher divides the students into an equal number of fruits according to the class size.
Students sit in a circle.
Give each student a card with a fruit picture
One must stand in the centre.
Teacher shouts a fruit, such as 'apple'
All apples must stand up and change places with another.
The student in the middle tries to sit before all the apples settle to their new seats.
The new person in the middle shouts another fruit.
Tide's in / Tide's out
Draw a line representing the seashore.
Ask students to stand behind the line.
When teacher shouts 'Tide's out!', students jump forward over the line.
When teacher shouts 'Tide's in', students jump backwards over the line.
If the teacher shouts 'tide's out' twice in a row, students who move will drop of the game.