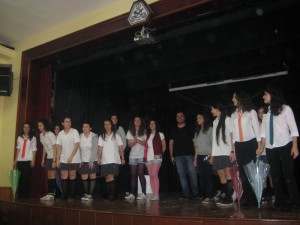 We organise a scrabble tournament every year and we invite our sister schools to join us. At the award ceremony we perform a play for our guests. This year I wanted it to be different because in grade 10 I had students who can sing very well but the school I work is not very big and the enthusistic ones are so few that every teacher runs after them and the boys are not very fond of singing and dancing so I had to tailor-made something for that day. I had been thinking about a musical with some favourite musical songs but as I had limited singers and dancers I had to be careful and the musicals I chose wouldn't appeal them
I really love the idea of staging a play written by a student so I asked one of my brilliant students in grade 12 if he could write a musical for the ceremony day. He accepted with pleasure. I told about the limited singers and the dancers. He told me he would consider everything and write something. When I checked my emails in the afternoon at home, I saw his mail. On the subject part he wrote 'I'm fast'.
He was, indeed. I read his musical. It was great. The next week we started rehearsing. We asked the dance club to help us with the dances. On the day of the performance, they shone. I'm very proud of them and I know my playwright will be very successful in the future. In the play my two grade 12 students also acted and they are studying for their university exam which will be on June 18th. With great enthusiasm they were always ready at the rehearsals. Although I didn't want them to take part in this project because of the exam pressure, they volunteered and saved my life.
I'm not going to write their names because they don't to be seen when google searched 🙂
Unfortunately I managed to upload only a part fromit. I have to learn how to save videos on desktop from camera cds.
Our Musical from eva simkesyan on Vimeo.