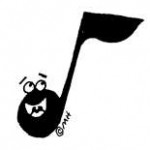 I guess you all know that I love using songs in lessons. This week I'll teach giving advice, talking about regrets. The target language is the modals for that.
I decided to start with a song. When I prepare I will also share but after I tweeted 'Dear PLN, can u suggest me a song 4 teach giving advice or criticism, can't remember any., looking for though, pls RT'. My PLN came up with lots of great ideas. In order not to lose them I creaded a google spread sheet and I'm adding it here too.
If you used a song in the class for any grammar topic, can you please add it to the spread sheet.
https://spreadsheets.google.com/ccc?key=0AnayGhctnQeddHlvaEIxTFJmeDd0eWk0dXlDLTV6aHc&hl=en
And here I'm adding some of my bookmarks:
A document from ELTCommunity.com: http://www.eltcommunity.com/elt/docs/DOC-1044
Teaching grammar through songs and rhymes: http://www2.vobs.at/ludescher/Grammar/teaching_grammar_through_songs_a.htm
You can find more song related posts on this blog here. here, here, here