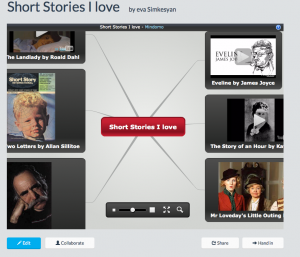 One of the stands I loved visiting at Bett was the Norwegian Classroom. It was fun to see the tools I love using in class. Creaza was a tool I suggested my students to create projects. At Bett, visiting their stand I noticed that they have added new features, updated the tool and it is really very cool for teachers and students now. Creaza consists of four tools; Mindomo – Cartoonist – MovieEditor – AudioEditor. In addition, it is available in nine different languages.
Today I want to write about Mindomo– a very versatile mind mapping tool which can also be used to create presentations. You can signup Mindomo going to its website or just activating your Creaza account you can also have the right to create your mind maps. Mindomo is not just a simple mind mapping tool, it is a great tool for flipped classroom that a teacher can create courses and assign them to students. It's wonderful for Project Based Learning where students can work on a subject and collaborate on the same map.
It is very easy to use. All you have to do is to activate your account, go to Mindomo, and start creating your mind map on the topic you have to work. To make your work more colorful and energetic, you can add videos and images, clicking on the icons on the left hand corner of your screen. Once you finish your mind map, you can export it as pdf, jpg or png. You can print it out if you want to use it as posters in your classroom walls. You can keep it private or public and share your work with the link or embed it to your blog if you choose to make it public.