Part of the series From my PLN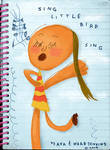 Music is everywhere, it surrounds us from the moment we are born – well even before that;) My father is a music lover so my earliest childhood memories revolve around singing, dancing and "making" my own music. I loved to record songs or my covers of rhymes;) I never had a  great voice but I was very passionate about singing (and listening to music). I was a very lively child and my mum said that when I listened to music those where the few moments I was"calmer" and let her work a bit;)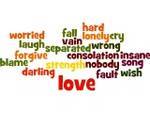 I started learning English when I was quite young – my parents were my first teachers. And how did they do it? Through songs of course. Old Macdonald, Hokey Pokey, ABC and many more…When I was a teenager my father played The Beatles or The Rolling Stones to me, asking whether I can pick up and understand some words (he does it till this day, sometimes with very complicated lyrics;)). That is why, as a person who cannot imagine life without music and never leaves home without an Ipod, I think it is important to use songs in the ELT classroom. If we are passionate about something  – we should share it with our learners. I try to pass my love to music onto my daughter as well – she is four and loves singing:) And that is how I teach her English – through songs and chants:)
On my lessons I like to use songs that are not very well known because then the response seems to be "fresher" somehow . I mix the less common songs with the classic ones and I think that lessons with more than one song work best. Here is a lesson plan for young adults using three songs.
Level: FCE/CAE
The aim of this lesson was to talk about various types of love and relationship, as well as to focus on grammatical expressions talking about regrets and the past (wish/regret/modals in the past/would)
Apart from listening, grammar and vocabulary skills were also practised and the lesson continued with a writing project.
On this lesson I used three songs – each about a different kind of love such as motherly love, unrequited love or lost love. We started the lesson by looking at the word cloud made up of keywords from those three songs. Students were supposed to predict the content and discuss the themes in pairs or groups.
At that point students were presented with the lyrics of the first song – and here I decided to gap the text. They skimmed it and asked about words that were new. They tried to predict what music genre it was and who was singing this song. Later on, they listened and filled the gaps. After completing the task in groups, they checked their predictions and discussed the type of relationship/love presented. They decided what keywords conveyed the meaning and discussed the grammatical structures talking about the past and regrets.
The be good Tanyas  
Momsong
You said to yourself that we did not love you
All of the years didn't mean nothing
You told yourself we would not forgive you
Mistakes that you made would keep us separated
Comin' home hard day done
Comin' home hard day done
Don't you know it's your laugh we laugh that
pulls us through
And the strength and the love that we carry
We got it from you
With the second song the task was similar but the lyrics were jumbled.  Again the students familiarized themselves with the text and tried to predict the music genre and main theme.
Lee DeWyze
 "A Song About Love"

I used to make you cry,
but I haven't smiled since you left.
Can you undo 'Goodbye',
its a word I wish I cud forget.
U told me you love me and to try to move on.
But its hard to get up when you fall,
so I wrote a song about love but its nothing at all.
It was you who took the blame,
even though we both knew who was wrong.
Yeah I'm calling out your name,
every time I'm singing this song.
Coz its over, yeah its over
U told me you love me but its time to move on.
its hard to get up when you fall,
so I wrote a song about love but its nothing at all.
Coz its over, yeah its over
U told me you love me and to try to move on.
its hard to get up when you fall,
so I wrote a song about love
and its sad cuz it won't be enough.
so I wrote a song about love but its nothing at all.
And last but not least,  it was time for the third song, this time in full version. Students read the text to get the main idea. The vocabulary was checked and students were asked to search for keywords presenting the main idea. After that they listened to the song.
 Eric Clapton
"Layla"
What'll you do when you get lonely
And nobody's waiting by your side?
You've been running and hiding much too long.
You know it's just your foolish pride.
Layla, you've got me on my knees.
Layla, I'm begging, darling please.
Layla, darling won't you ease my worried mind.
I tried to give you consolation
When your old man had let you down.
Like a fool, I fell in love with you,
Turned my whole world upside down.
Let's make the best of the situation
Before I finally go insane.
Please don't say we'll never find a way
And tell me all my love's in vain.
 After listening students were presented with two images and had to decide which one suited best to the last song. They had to justify and defend their opinion, of course.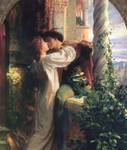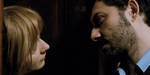 After listening to all three songs it was time for comparison and contrast. We started with the themes and various types of love moving on to more analytical tasks, such as vocabulary and grammar comparison (how many different tenses were used, how did the author express regrets and wishes etc).
We decided together how the songs could be made shorter – which words could be reduced without changing the meaning and how to expand them by adding more nouns, adjectives or verbs.
As homework students were asked to change the format of chosen texts e.g. turn them into a newspaper article or a screenplay.
The lesson continued with lots of follow up projects and students themselves found songs dealing with chosen topics they wanted to discuss and analyze:)
The reduction/expansion and media transferred ideas are inspired by Alan Maley's procedures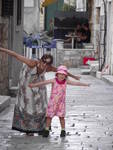 Anna Musielak is a a teacher and teacher trainer from Poland. She is  also a drama  and literature enthusiast. If you want to follow her on twitter,  she is @AnnaMusielak
I'd like to thank Ania for this wonderful contribution to the song lessons and this blog. I'm glad I had the chance to attend her workshop at TESOL France and admired her enthusiasm for teaching.
Thanks Ania, being part of my PLN…