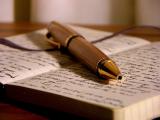 Here is a fun writing activity that you can use with your students.
We call them 'month projects' because the students have to write the things they have learned, experienced, read or watched at the end of each month. They sometimes write about their feelings, disappointments or goals too. These articles are just for me. Nobody reads or I don't share or display them anywhere.
Some of them just write about the things they do at the weekends with their friends. Some of them try to write something because it is an assignment and they are actually marked but there are others who write album, movie or book reviews, develop ideas, and discuss things with me. These are the ones that I love most. So from October to May they know that they have to write these things and the more creative ones usually come up with great ideas like newsletters or booklets.
This year I also want to continue the idea but I'll ask my students to create newsletters or ebooks. If they want to create something online they can and this will also help to create their e-portfolios if they can write about their observations, thoughts about the topics we discuss in the class. However, if they just want me to read them, they still can create their newsletter using the programmes they have on their computer.
Some sites for creating online newsletters, e-books or booklets: