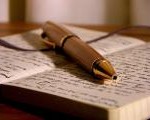 One of the skills that our students must improve is writing. I believe if you have something to say it is easier to write. Usually the students do the reading tasks, vocabulary and grammar exercises eagerly but when it comes to write they can't produce. I think it has many reasons but I still believe we can do something to make them motivated to write in English.
What can we do?
Give them a reason to write. Class blogs are great. If they have a real reader they will be more motivated to write so you can say 3 piece of writing will be chosen and published on the blog. But try to choose different students each time.
Brainstorm ideas
First individually
Then in pairs
Then in groups or as a whole class
Give them a good sample to work on
Practise some of the grammar that will be needed in the task
Brainstorm the vocabulary that can be used in the task
Look at the conjunctions together and practise how they can be used in their task.
Ask them to write the draft in class
Pairs exchange the drafts and comment on their friends' writings
Ask them to write the final product at home.
I also think that other than writing tasks you can always start the lesson with a writing game or as a filler you can do an enjoyable writing activity with your students where they can try to be more creative.
I had written some fun writing activities that can be used as a warmer and filler in the class but I'll be happy to hear your ideas.