I'm experiencing another post conference blues. I just came home from one of my favourite conferences. I started TESOL France from day 2. I met friends whom I had met before and missed a lot and I met friends who had been my online PLN for more than 2 years.
The first session I attended was "What'cha listening to?" and the speakers were Julia Aliverti and Jeffrey Doonan. Their talk was, just like me, using songs in the classroom. According to the speakers, music is the only language teenagers speak. I am not going to tell more about their session, hoping that they will continue to share the presentation in future conferences. It was a great talk and I enjoyed every minute of it.
They also mentioned about Disabled Access Friendly where teachers can find or donate lessons and raise awareness.
Imagine how life would be difficult or different for you if you were disabled. Some societies are very well aware of their disabled citizens and some are still learning. Some parents help their kids become Oscar Pistoriuses and some others are ashamed of them. Instead of feeling sorry for disabled kids, we can teach our able kids that they are not different from them.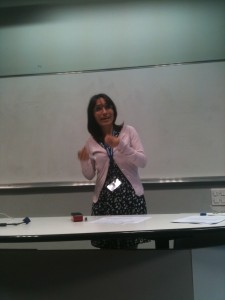 Yesim Cakir's session was full of great engaging speaking activities. It was a lively talk and all the activities she demonstrated were very useful.
Literature Strikes Back was another talk I attended. Dimitris Primalis reminded us how reading books are important and how today's learners have changed. To be able to motivate our kids we can vary the tasks and add a touch of technology to the activities.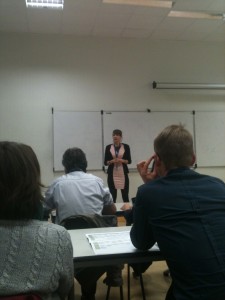 The Drama Queen of TESOL France, Anna Musielac shared engaging drama activities which can be used to teach/ revise / drill grammar.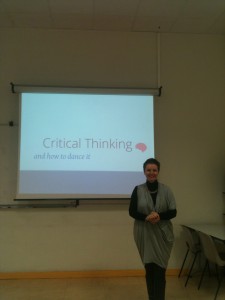 Anna Varna"s talk was on Critical Thinking and how we can maintain it. She was very well-organized and explained how we can achieve higher order thinking skills with our students. You can read more about it on Anna's blog
On of the talks I enjoyed very much was the unworkshop of Eduardo de Santos, AKA @ELTbakery.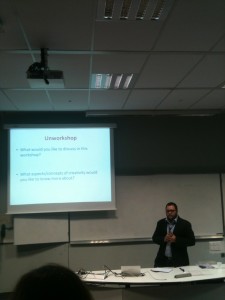 We asked six questions on creativity and chose our groups according to the questions we wanted to discuss and talked about it for a while, shared our ideas and then listened to Eduardo how he achieves creativity in his classes.
Eduardo's conclusion was "creativity is not about thinking outside the box as defined mostly but it is about thinking there is no box". You can also find more about his talk on his blog. (http://eltbakery.edublogs.org/2012/07/25/promoting-creative-thinking-through-classroom-activities/)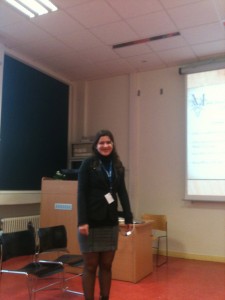 Elinda Gjondedaj's mobile storytelling was very interesting and full of apps that can be used to tell stories. She especially mentioned about the free ones and how a student easily can create a story using her smart phone.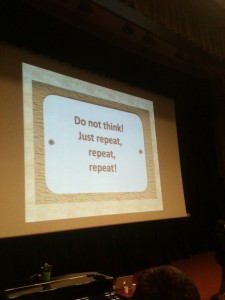 The conference ended with an unforgettable plenary. Chia Suan Chong took us to a journey in the history of language teaching, from Grammar Translation to today. She highlighted why she still favours these methods and how the teacher chooses her style and arrives to principled eclecticism.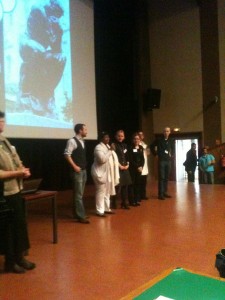 I'd like to thank Bethany Cagnol and her highly motivated, helpful and friendly team for organizing such a great event. TESOL France is a conference where the delegates feel they are home and among friends. You never feel alone there and enjoy being with the community, with the teachers who are ready to go out of the box, leave their comfort zones and make a difference.
I will be at YTU ELT symposium next week in Istanbul. I sense fro now that it will be another great conference.