Last weekend I attended a 2-day-professional development workshops on etwinning for beginners. I must say I learned a lot. I've been registered etwinning with a hope to find a Comenius project partner for almost a year but attending the workshops I realised I knew nothing about the site.
Etwinning gives teachers a wonderful opportunity to find partners from everywhere (mainly Europe but then you can add others to your project) start a project and work together. When you start a project, the site allows you to use the learning labs where you can find ideas and resources.
Etwinning not only gives teachers a chance to collaborate but it also gives them professional development opportunities.
If you aren't there, just visit the site and see what's going on.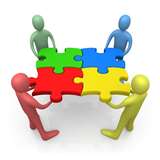 image source here