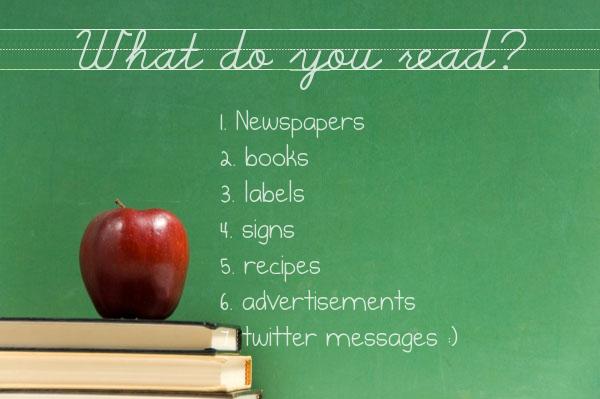 image created via Add Letters
Reading is one of the activities I love doing. However, students don't usually like it as they haven't built a habit for reading or they think they don't read in their daily lives. When I ask about their preferences, they mostly say they don't read anything.
Of course, they do read. We know that but they don't know it. They consider reading is just reading books or newspapers. Maybe we can start from there and make them realise they need good reading skills to survive in life.
When they go out, they will walk and see signs and advertisements on the billboards. When they shop, they will have to read the labels or what is in the product. When they go to the doctor, they will have to read the prescription and when they want to celebrate an important event, they will want to invite their friends to eat together so they will buy cookery books and read the instructions.
This is how we do in our mother tongues but they will travel. It's easier now. They will use social media and have friends all around the world and it is very obvious that they will need English even for reading labels, jars or recipes so everything we read in our daily lives can be used in EFL classrooms as well.
Showing them how to read and teaching them the meaning between the lines can help them see that they actually read. And who knows maybe some of them will even start reading stories too.
Here is an activity I thought I can use with my classes.(As reading recipes is another thing that I love doing)
Activity for reading recipes
Level : Intermediate and above
Group the students
Give each group a set of recipes
Give each group the ingredients they have at home.
Tell who will be the guests and add what they can't eat (allergies, taste choice, etc)
Tell them to prepare a three course meal for dinner . They have to cook and prepare in 60 minutes.
Students will read the recipes, check their ingredients and choose what to cook.
Follow up: Ask them to create a glogster for their menu.