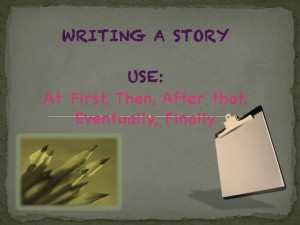 We were working on narrative tenses and the writing task of the lesson was 'writing a story'. My class is small and it's a real mixed-ability class. although it's small, it sometimes takes very ages for the students to master something. The book we're using organized the activity very well – first making students to know and use the connectors to make them aware of the sequences in a story. We did the exercise on the book and wrote a paragraph using At First, Then, After that, Eventually, Finally but some of the students had problems writing their own paragraphs so I decided to continue.

photo credit @AClilToClimb #eltpics
I divided the group into two and told them they would write a story using At First, Then, After that, Eventually, Finally.
Each group now had a good students to help the others.
I changed one student from the groups and exchanged them with each other after they finished writing and reading their paragraphs aloud.
I left the good ones in the group, changing one students after writing a paragraph for four times.
In the fifth round, all the good ones were in one group but two groups managed to use the connectors and produced their own sentences.
Then they all went back to their seats and wrote their own paragraphs.
As a follow-up, they wrote another paragraph, creating a book with bookr.