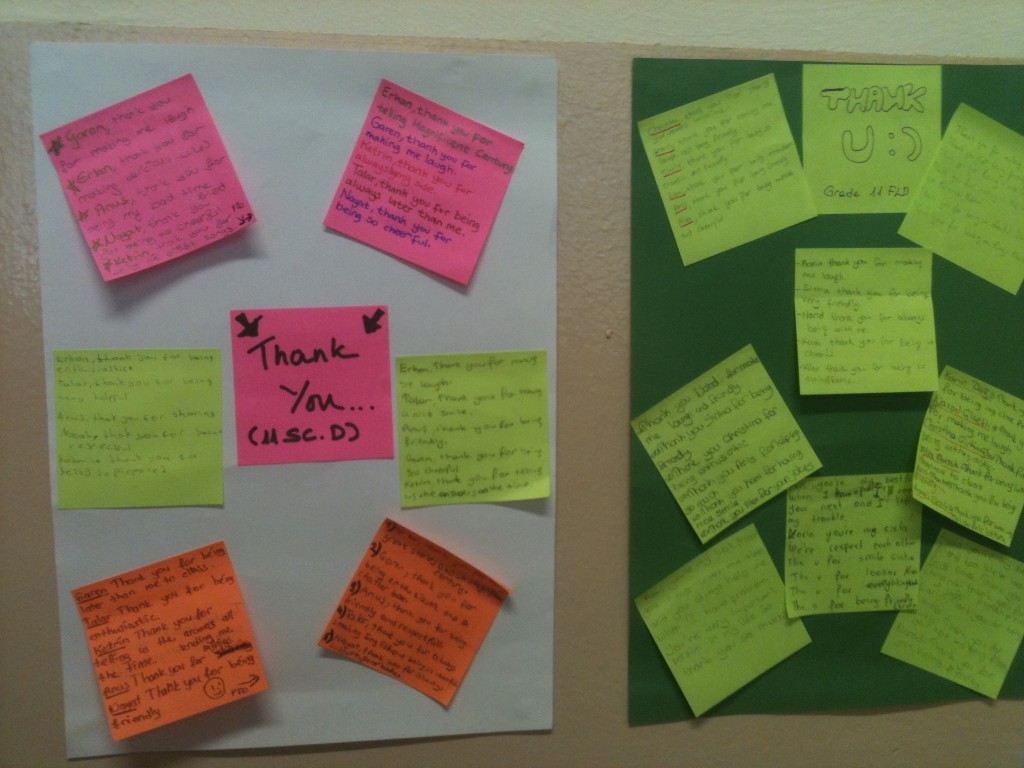 I used this song  with my students last year.
I combined some of the activities from here and added some follow-up writing activities.
1.First I asked my students who we thank in our lives. I wrote some phrases on the board to help them to express themselves. I gave them post-it notes and I divided them into groups I told them they have to thank the friends in their groups. I  elicited the sentence and wrote some examples on the board "Thank you X for being very helpful" I also told them that they have to say a different THANK YOU to each of their friends. I put all the thank you post-it notes on the walls.
2. Then I asked them to list what the following words and phrases bring into their mind.
morning
tea
rain
bills
being late for work
home
picture
3. I told my students to guess what the song we were going to listen be about using the words and phrases from exercise 1 and 2 write what the song we are going to listen will be about.
Then we listened to Dido's Thank You and filled in the gaps on their handouts.
I also assigned them with a few follow-ups.
4. Understanding the song:
What kind of a day did she experience?

Why isn't she unhappy?

How would she have felt in the song, if she didn't have someone supportive in her life?
5. writing:
Change the song into a thank you letter. You may want to begin as below
Dear …..
You are sleeping now and I'm watching you. I know we couldn't speak tonight as I was very tired but I want to thank you because —–
BTW I got really interesting letters written to their mothers 🙂
6. narrative:
This song can also be used for revising narrative tenses or writing a narrative. After listening to the song you can ask your students to write 'an unlucky day in the life of ——-' or you can tell your students to write a story of a day based on the song.
Grade 11 SD Thank You notes.
Grade 12 follow ups
An animation
GoAnimate.com: Thank+you by anoosheeg_L
Like it? Create your own at GoAnimate.com. It's free and fun!
a summary and a thank you with good old power point