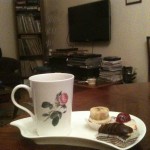 Nowadays I'm in need of a good collaborative writing tool and while searching I've come across with these goodies. Have a look, you will like some of them.
StudentPublishing.com I liked the tool as it allows students to draw pictures, upload from desktop and create and publish their stories. You will also find lesson plans, useful links for teaching writing, worksheets and a good tutorial how to use the tool.
Writeboard.com is an easy-to-use collaborative writing tool. Create your whiteboard, write your text then invite others to add content to what you've started or ask others to edit what you've written. I think it is great for online collaborative projects.
TitanPad lets people work on one text at the same time. It works well with online writing projects.
Sync.in is another web based real-time collaborative tool which will work well for class project, writing stories and online projects.
If you have used another tool and think worked well with your classes, I'll be glad to add them here.